Surveying of eligible voters within Auckland City finds Phil Goff has 38% support, 27% ahead of his nearest rival Vic Crone on 11%.
The next highest polling candidates are John Palino (6%) and first time and younger candidate Chloe Swarbrick (5%).
Some 23% were undecided and were then asked who they preferred. 30% stated preferences, more supporting Mr Goff than any other candidate. Preferences for candidates other than Phil Goff were too small to impact his overall lead by more than 1%.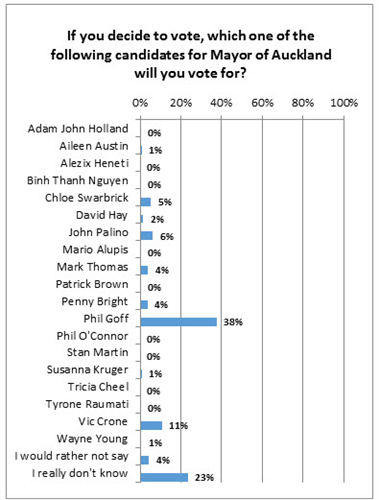 Postal voting in local body elections starts on September 15 and closes on October 8.
The survey, commssioned by the Aera charitable trust, in the intrests of increasing civic engagement in the elections, found Mr Goff's support is broad and strong.
Party vote
Although a sitting and long term Labour MP, he attracted more Aucklanders who voted for the National Party in the 2014 general election than Vic Crone.
Income groups
He led across all age and income groups, with his support peaking at 55% among those earning more than $200,000 per year.
People with authority to make spending decisions for their organisations also gave him overwhelming support.
Occupations
He polled strongly across the majority of occupational categories, with the exception of unemployed/beneficiaries and home-makers, where his support was significantly below average. He received his highest levels of support from the following occupations (full table provided in Appendix 2):
· Students (53%);
· Clerical/Sales employees (50%);
· Business Proprietors/Self-employed (48%);
· Business Managers/Executives (46%);
· Retired/Superannuitants (44%)
In each of these occupation groups and among Professionals/Senior Government Officials Phil Goff received more support than Vic Crone.
Sub cities
Phil Goff's support for Mayor extended across all Auckland sub-cities. His highest level of support came from the Auckland Isthmus (old Auckland City area), Waitakere, Manukau, Papakura and Franklin. He had significantly lower support on the North Shore and in Rodney.
Vic Crone had highest support from respondents on the North Shore and in Rodney. She had lowest support from respondents in Manukau, Papakura and Waitakere.
John Palino had strongest support in Papakura, Franklin and, to some extent, on the North Shore.
Chloe Swarbrick drew most of her support from Papakura and the North Shore. She appeared to have slightly more support in the Auckland Isthmus than John Palino.
Results are from an online survey of 748 members of Horizon Research's specialist adult research panels residing in Auckland City. The survey was conducted between 8 September and 12, 2016, and measured respondents' intended support for the 19 Mayoral candidates.
The sample was weighted on age, gender, personal income and sub-city to provide a representative sample of the 18+ population in Auckland City at the 2013 census. At a 95% confidence level, the survey has a maximum margin of error of ±3.6% overall.
The survey was commissioned by the Aera Foundation, which publishes the full survey report here.
The Spinoff news site is publishing comment on the survey and the Aera Foundation's reasons for commissioning it.
Survey results are open for comment at Horizon's Facebook page.