You want mobile?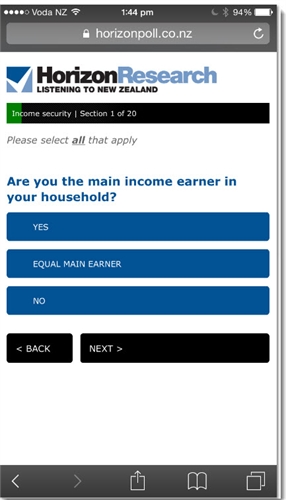 Horizon delivers mobile surveys:
Results in real time

Optimised for all devices

Answers selected with a single touch

Targeted to national or specific audiences

Carrying your brand for specific customer and other surveys!
Don't miss the increasing number of New Zealanders completing surveys on mobile devices!
What our clients are experiencing:
TIMELY, PROACTIVE: "A big thank you ... I really value your professionalism, responsiveness and proactive ideas for further research" - Senior Government Research Insights Manager..
SERVICE: "I want to say a massive thank you to you Graeme and your team. You have really done us proud and gone above and beyond."
OUR UNIQUE ONLINE RESULTS REPORTING SYSTEM: "There is so much useful information in there - it could keep us busy for months just searching through it. I hadn't realised we would have access to that results portal - it's great and going to make our lives so much easier."
"We knew what the market result would be two months ahead"
Horizon likes to keep you ahead.
For one client we conducted online research into an agricultural industry share float.
Two months ahead of the float closing, our client knew it would be under subscribed – and WHY.
Its competitor continued to spend more than $360,000 promoting the float, its extensive newspaper advertising and consultation missing the serious questions potential investors wanted answered.
Our client had access to the results in real time.
The float achieved the exact level of subscription our research had forecast.
Real-time access to the investment targets' qualitative comments gave our client the intelligence they needed to counter arguments, and redirect strategy to avoid wasteful and costly activity.
And then there was the thrill of the campaign and unique direct access to our results analysis systems: "It was actually quite exciting, being able to see the results come in in real time as often as we liked".
Accuracy
Though we know there are confidence levels in market research results (and we can get our maximum margins of error down to +/- 1% on some samples of nearly 4000 respondents!), it's always good to hit the nail right on the head:
1% of respondents to one of our HorizonPoll surveys said they belonged to our client's nationwide organisation: Its membership equates to exactly 1% of the national population aged 18+
In a January 2011 HorizonPoll mood of the nation survey for the Sunday Star Times, the number of New Zealanders who indicated they would migrate permanently overseas in the coming year matched the official figures for those who had left in the year to November 20, 2010.
Repeated surveys covering the numbers who are members of KiwiSaver produce results matching actual scheme membership.
When another research company published its quarterly readership figures for newspapers and publications – HorizonPoll results were either the same or within the 1% margin of error. The other study had involved 3000 interviews over four months. Horizon's research involved 4000 over four days, delivering a market edge for our clients. We've done another four surveys since. While the rest of the market is awaiting a quarterly result, our major corporate clients have been enjoying precise information on readership advantages among specific target audiences, including those with the highest purchasing power. We also measure which main newspapers are the most and least trusted by their readers.
The number of people own mobile phones in New Zealand is exactly as HorizonPoll results state. (And we can see who has what share of the market, and even doesn't have or use a landline. If you want that filtered by anything - media use, sports interests... well we can tell you in less than 20 seconds! If you want us to text thousands of them, we can do that too!)
Efficiency and cost efficiency
Where one Horizon client faces a bill for more than $36,000 for a 1000-respondent online survey from another research company, Horizon has in the interim delivered a 2,200+ respondent nationwide research study for less than one third of that sum: Horizon does not insist on providing analysis and reports if our clients are capable of doing it themselves. Of course, we typically produce in-depth reports with analysis and strategy as part of our competitive fee.
Combining online and offline market research
When one of our clients wanted to reach a very specific group within a minority population segment, not only did we have this group well represented in our national online databases, we could also recruit more into a client panel – and supplement the research with a mailed paper survey: just to provide assurance that a potentially hard-to-get segment is covered. Now they will be able to present evidence to their stakeholders and partners in relation to the management of more than $1 billion in assets. We also combne online and telephone interviews for some surveys.
"What a fantastic turn around!"
That was the excited response from an Horizon client who called at 11am on a Friday to urgently launch a survey. Results were needed close of business Tuesday. Our client was given expert assistance with questionnaire design and signed it off 4pm that day. The survey to a filtered group of people in employment went into the field 10am Saturday. Horizon carefully managed messages, incentives and a reminder to potential respondents. Full, weighted results of 1000 respondents nationwide were available 4pm on Monday.
Why not feel the "excitement" too?
Thanks for reading this.
Enjoy the accuracy, speed, cost efficiency, experienced service (and the "excitement") of working with Horizon.
You are welcome to contact us now:
Julia Ord
Manager
Horizon Research Ltd
Telephone: +64 27 706 8790
E-mail: manager@horizonresearch.co.nz
Or Horizon's Principal, Graeme Colman:
Telephone: +64 21 84 85 76
E-mail: gcolman@horizonresearch.co.nz
And get a glimpse of some of our results