New Zealand First's intending voters are split equally when asked which of three coalition options they prefer.
An August 11-15 poll by Horizon Research asked respondents what advice on coalition options they would give to New Zealand First leader Winston Peters if they were talking with him.
The options were
A National-New Zealand First coalition, a
Labour-Green- New Zealand First one, or
Sitting on the cross benches, giving the party with the most votes support to govern, but not joining a coalition and voting on each policy issue in Parliament.
Although more respondents to this question overall would like to see New Zealand First in a coalition with Labour and the Green Party (37% support) than with National (31%) the result is not so clear cut among those who expect to vote for New Zealand First on 23 September.
Those who were both registered and 100% likely to vote – and intending to vote New Zealand First were split three ways on whether to go into coalition or sit on the cross benches:
Each of the three coalition options received 32% support from intending New Zealand First voters.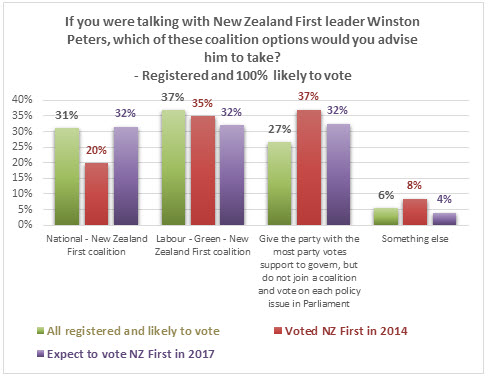 24% of those who expected to vote for Labour said they would advise New Zealand First not to go into coalition, but to provide support to govern to the party with the most party votes and vote on each policy issue. Similarly, 26% of those intending to vote National in September felt that way.
67% of those intending to vote Labour felt that New Zealand First should be in coalition with Labour. Those intending to vote for the Green Party were even more determined (81%) that New Zealand First should be in coalition with Labour and the Greens.
69% of those intending to vote National in September felt that New Zealand First should be in coalition with National.
Preferred Coalition – two option choice
In a separate question, respondents were asked which party (National or Labour) they would prefer to lead a coalition government if one were required after the next general election. Horizon has tracked this question in March, May and August 2017.
Among those who were both registered and 100% likely to vote, 55% preferred a Labour-led coalition if one is required after the September 23 election. 45% preferred a National-led coalition.
The percentages, which had closed to 51% for Labour- led and 49% for National-led in May, 2017, have diverged again after the change of Labour Party leadership.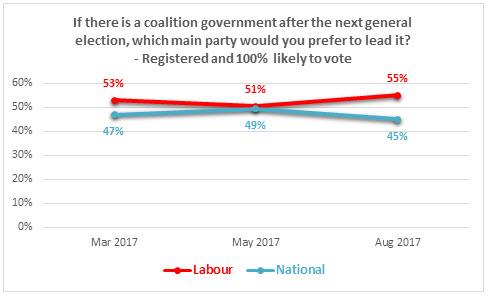 More information, including preferred coalition options by party voted for can be downloaded here.
Horizon will publish preferred Prime Minister results from this survey and undertake party vote polling before the election.
Results showing vote switching between parties are here.
Comments are welcome at Horizon's Facebook page.
Method and sample
This online survey is of 959 members of Horizon Research's national panel, which represents of the New Zealand population 18 years of age and over, and who had not participated in political questions in the previous seven months. Respondents in a stratified sample were invited to participate by email, with a reminder email sent to those who had not participated. The stratified sample was weighted to match national demographics for age, gender and education level.
All the respondents were existing members of Horizon's panels and did not include any new panel members joining during the course of the survey. Horizon's panels have been recruited and maintained to represent the New Zealand population at the 2013 Census.
The questions on voting formed the first question set of an omnibus survey. Responses were received between 11 and 15 August 2017, with 67% of responses received on the first day of the survey period.
Results shown in this summary are for 860 respondents who indicated that they were registered to vote and were 100% likely to vote. 830 of them gave a particular party they were likely to vote for and could be regarded as "decided" voters.
The survey has an overall margin of error of ±3.2% at a 95% confidence level. Sub-sample margins of error for 2014 voters for each party commented on in the summary are shown below. These sub-sample margins of error shown should be borne in mind when interpreting the results.
It complies with Research Association New Zealand's code for political polls.
| | |
| --- | --- |
| Party Vote 2014 | Sub-sample margin of error |
| ACT New Zealand | 30.2% |
| Conservative Party | 21.3% |
| Green Party | 8.7% |
| Internet-MANA | 26.7% |
| Labour Party | 7.1% |
| Maori Party | 25.8% |
| National Party | 5.3% |
| New Zealand First Party | 11.5% |
For further information please contact
Grant McInman, Manager, Horizon Research e-mail gmcinman@horizonresearch.co.nz, telephone +64 21 076 2040