National and Labour are almost dead even in the latest Horizon party vote poll.
Among those who are registered, have made up their minds and will definitely vote, National has 38.5% support.
Labour has 38.2%.
New Zealand First has 9.8%, the Green Party 7.7%.
If this level of support is achieved by NZ First then it will be able to decide which main party governs.
ACT has 1.4% which could also be significant in deciding which main party governs. If ACT's leader wins the Epsom electorate, on these results ACT would have two MPs and enable a National-New Zealand First-ACT coalition.
Alternatively, on these results a Labour-Green-NZ First coalition could govern.
The poll of 846 registered voters was taken between September 9 and 14.
It is weighted by age, gender and region to ensure it represents the New Zealand adult population at the last census. At a 95% confidence level, the maximum margin of error for the decided voter sample is +/- 3.4%.
The result mirrors poll of polls results showing the main parties in a close race in the last week of the election campaign.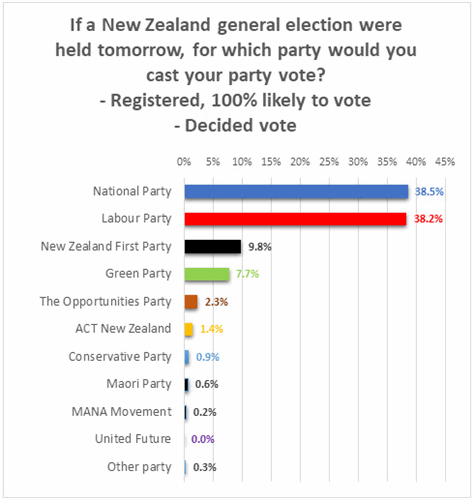 Expected and preferred coalition leader
Overall, 59% of decided voters are expecting Labour to lead a coalition government if one is needed. 41% expect National would lead it.
Asked who they would prefer to lead a coalition, 53% say Labour, 47% National.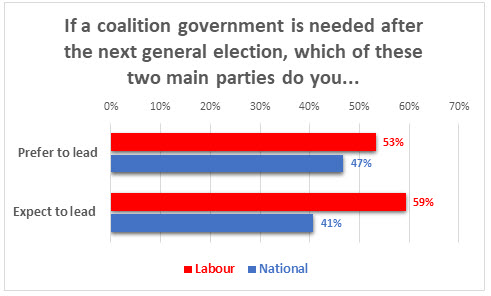 Voting by gender and age
Women are a significant driver of Labour's support in this poll and since the change to Jacinda Ardern as leader.
42% of women voters support Labour, 33% National.
National is stronger among men: 44% to 34% for Labour.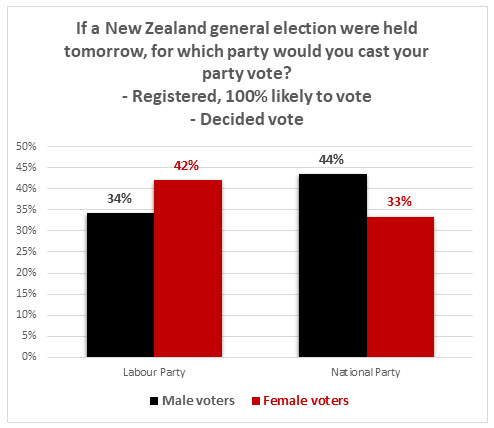 By age, Labour's strongest support is coming from those aged 18-34.
52% of definite voters aged 18-24 support, Labour, 25% National.
47% of those aged 25-34 support Labour, 32% National.
The parties each have 32% of those aged 35-44 years.
National has more support among those aged 45+.
Among those 65+ National has 52%, Labour 29%.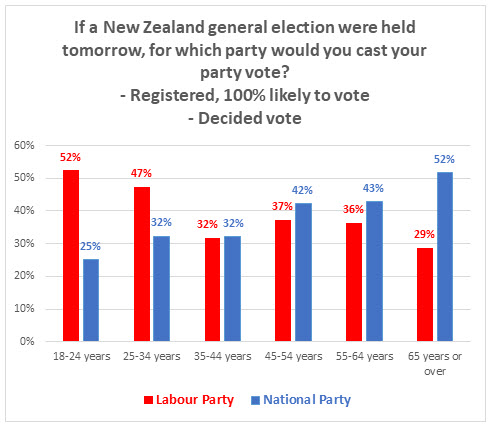 Seats
Assuming the Maori Party and ACT each win one electorate seat, these results would give parties this number of seats in Parliament:
ACT 2
Green Party 10
Labour 47
Maori Party 1
National 48
NZ First 12
The survey complies with Research Association New Zealand's political polling code.
A Roy Morgan poll published on September 15 also finds the parties neck and neck.
The National Business Review covers the Horizon poll and radio interview here.
Your comments are welcome at Horizon's Facebook page.
For further information, please contact Grant McInman, Manager, Horizon Research, e-mail gmcinman@horizonresearch.co.nz, telephone +64 21 0762040