Two out of three New Zealand households think the prices they are paying for electricity are too high.
A total of 66% say the prices are too high (23% say it is "very high" and 43% "high").
And up to 163,100 customers say they have either joined or will "definitely" join a service like One Big Switch, which has started negotiating power discount offers for consumers joining it for free.
Electricity retailers most at risk from customers saying they will "definitely" use a bulk deal negotiator are:
Genesis (including Energy Online) 40,400 customers intending to use a bulk deal service
Mercury NZ (also including Bosco, Globug and Tiny Mighty) 34,200
Meridian (including Powershop) 33,000
Trustpower 21,700
Contact 6,600
Pulse Energy Alliance 5,400
Flick 5,200
Nova Energy 3,000 and
Kiwi Electric 2,400.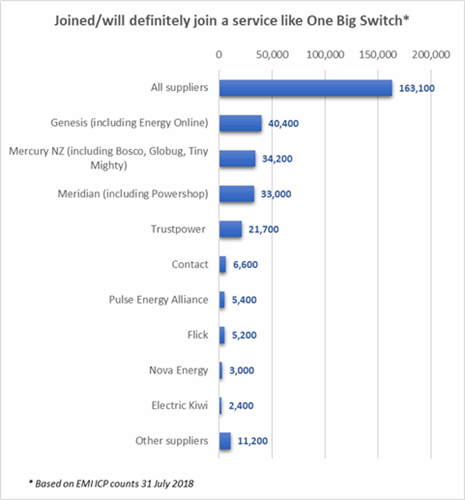 Only 3% think the overall price they pay for electricity is low.
Electric Kiwi customers are the most likely to think the charge for the electricity they use is low, and the least likely to think the price is high.
27% of respondents think the overall price is about right. Customers of Pulse Energy, Electric Kiwi, Trustpower, Contact and Meridian Energy are the most likely to feel this way; Nova customers the least likely.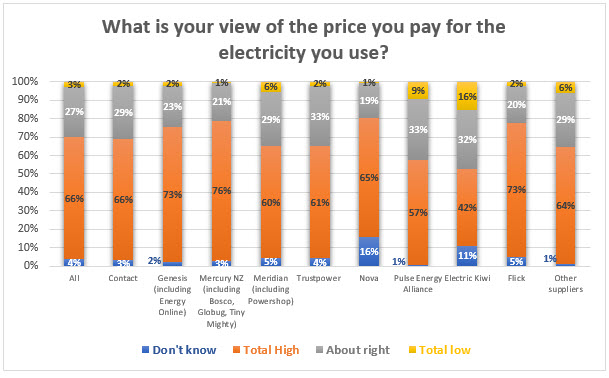 The feelings about price and intentions to definitely look at switching through a bulk deal negotiator come from an August 7-14 Horizon Research nationwide survey of 972 residential electricity consumers.
At a 95% confidence level, the survey's maximum margin of error is +/- 3.1%.
Respondents reflect the numbers with each electricity retailer.
The following chart compares the suppliers for respondents in the sample with the residential ICP share at 31 July 2018, as shown by the Electricity Authority's Electricity Market Information website.
The differences between the sample and the official residential ICP count are within the margin of error for the survey (±3.1%).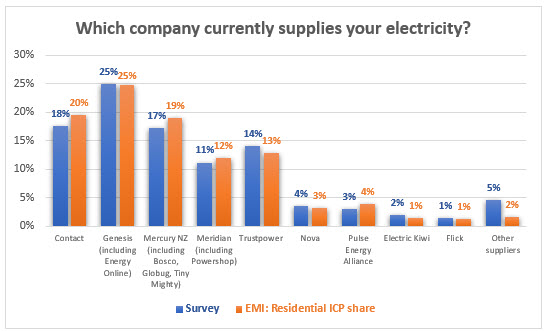 The survey was conducted in the public interest.
For detailed analysis by provider and further information please contact Grant McInman, Manager, Horizon Research:
Telephone: 021 076 2040
E-mail: gmcinman@horizonresearch.co.nz