By Graeme Colman. - If you were providing an information service which relies mostly on being impartial, accurate, first - and trusted - and 92% of New Zealander adults suspect you're spinning and twisting the facts, what would you do?
Stop doing it, or at least move to alter perceptions if you felt that were not true?
Most New Zealand media responded by not reporting this is how New Zealanders feel about them.
The most trusted news brand, Radio New Zealand, responded with in-depth coverage and commentary.
The latest Trust in News Survey, conducted for the Journalism, Media and Democracy (JMAD) centre at AUT by Horizon Research, finds what JMAD calls an alarming rate of decline in New Zealanders' trust in news, and some news brands.
In three years of 2020-22, trust in the news people consume dropped 10%.
While in 2020, 62% of New Zealanders trusted the news they consumed, in 2022 the figure was 52%.
Additionally, general trust in the news continues to decline.
In three years of 2020-22, trust in news in general fell 8% from 53% in 2020 to 45% in 2022.
The role of news media was once defined as being to inform, educate and entertain.
The JMAD results show people are not concerned about satire in news.
However, the number of Kiwis who think the media are fact twisters and spinners stays stubbornly and also alarmingly high: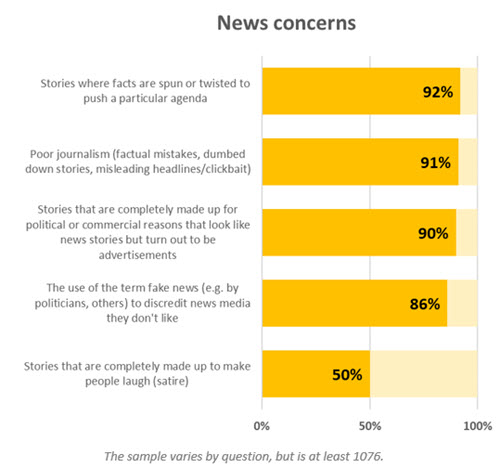 Spinning or twisting of facts generated the most concern among respondents (92% down significantly but not substantially from 95% in 2021).
90% of respondents were also concerned about made-up stories that turned out to be advertisements (no change since 2021) and 91% about poor journalism (also no significant change since 2021 when it was 91%.)
Kiwis are no fools. when politicians and others attack news as fake to try discrediting the media - 86% get concerned by the use of the term (no change in the last couple of years).
There was less concern about satire (50%) and this also showed no changed in the last couple of years.
New Zealanders are very interested in the news.
So interested perhaps that they'd like their media to resist the temptation to twist and spin, and be clear when content is sponsored: Just as they put "paid advertisement" on pages of advertising made to look like news pages.
Hundreds of millions to be made
Horizon's studies have shown there is a significant market in New Zealand for paid news content - valued at hundreds of millions a year.
Surely a factual, impartial, trustworthy, news service, made exciting by its exclusive scoops, insights, depth of content, timeliness, tailormade and personalised delivery is not beyond the capacity of New Zealand's media company owners and managers?
And such services can be sold at a profit-making subscription rates.
Shareholders should perhaps insist something is done: there's money to be made from investing in the high levels of interest in news - and stopping the perceived twisting and spinning.
Graeme Colman is Principal of Horizon Research. He is a former media business development manager and managing editor.