New Zealanders are clear on the issues they most want the country's new Prime Minister to focus on.
A nationwide Horizon Research survey reveals the top 10 issues they most want addressed are:
Cost of living 72%
Health 61%
Crime 58%
The economy overall 54%
Housing 53%
Education 43%
Equity – the gap between rich and poor 38%
Child poverty 37%
Climate change 35%, and
Improving the quality of life 33%.
The nationwide January 18-19 survey of 866 people aged 18 or older (maximum margin of error +/- 3.3%) also gives PM role candidates extra insights to increase their appeal.
Of those wanting Chris Hipkins to be elected PM on Sunday, 77% would prefer he focus on the cost of living (compared with 72% overall); 71% say he should focus on health, significantly higher than the 61% result overall.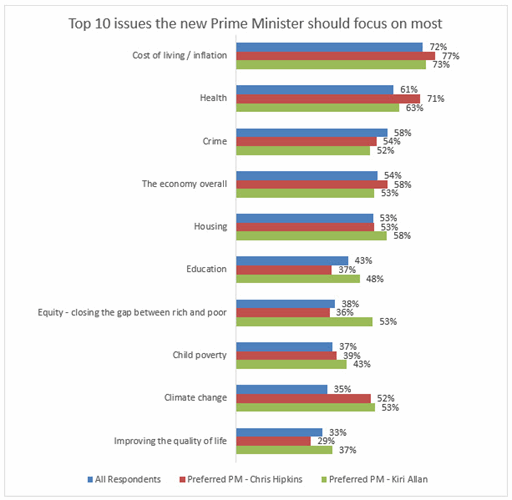 Climate change is more likely to be a focus among respondents who prefer Chris Hipkins (52%) or Kiri Allan (53%) as PM, compared with 35% overall.
Respondents who prefer Kiri Allan would also like her to focus on
Equity (53% versus 38% of total)
Improving health, education and incomes among Māori (36% versus 25% of total)
New non-transport infrastructure, like providing clean drinking and waste water (35% versus 25% of total)
Treaty of Waitangi issues (32% versus 16% of total)
Science and innovation (30% versus 15% of total).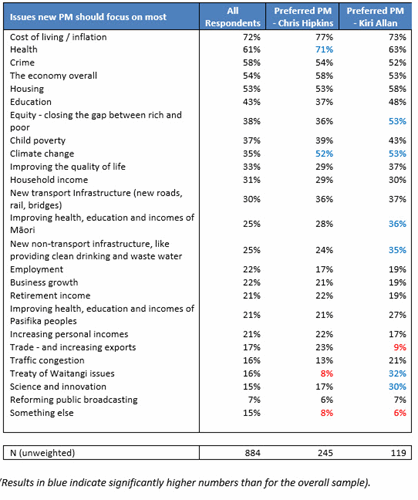 The priorities for those who say their decision whether or not to vote for Labour, "depends on who the new PM is", are higher than overall on personal income (32% versus 21%) and retirement income (32% versus 21% overall).
Those who're not sure if they are mor or less likely to vote Labour as a result of the leadership change, want a higher focus on Health (79% versus 61% overall), Housing (80% versus 53%), climate change (48% versus 35%) and household income (45% versus 31%).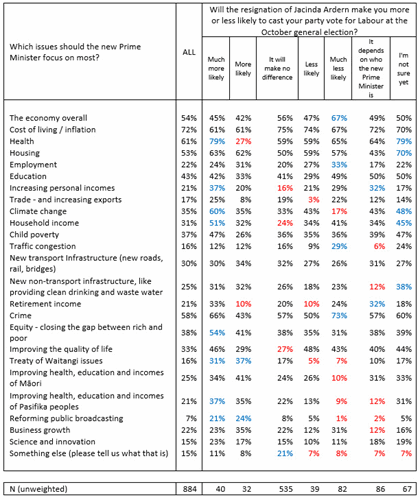 Horizon Research says the variation in people's priorities have the potential to open a window for the new leader to keep and grow support.
The new PM is also getting indications on how to attract votes by focusing on the different priorities voters for various parties have.
The Number One Issue for voters for various parties is:
ACT – Cost of living (82%)
Green Party – Climate Change (76%)
Labour Party – Cost of living (71%)
National – Crime (74%)
Results in blue in the following table indicate higher than the population overall, red lower.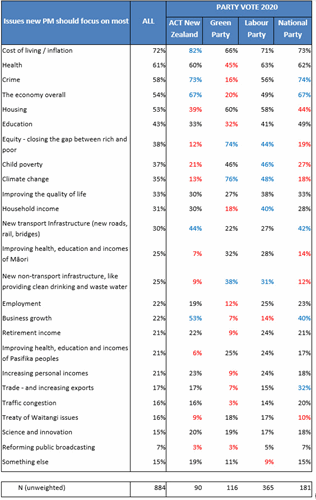 Methodology
The survey was conducted between 19-20 January 2023.The online sample of 886 respondents from Horizon's specialist research panels, is weighted on age, gender, Party Vote 2020, education, ethnicity and employment to represent the New Zealand population aged 18 or more.
It has an overall margin of error of ± 3.3%.
The survey was conducted by Horizon in the public interest.
We believe better decisions are made when you are listened to.
You are welcome to join our HorizonPoll nationwide research panel.