The Labour and Green parties would be able to form a coalition government, according to the latest Horizon Research poll.
The May 12-17 survey of 1,563 adults finds that among those who are both registered and 100% likely to vote, Labour would attract 31.8% of the vote and get 48 seats in Parliament.
The Green Party would attract 8.5% of the definite vote and get 13 seats: a combined 61 seats and a majority in a 120-seat Parliament.
National would attract 23.2% (down from 25.4% in January 2023) and get 36 seats (three less than in January).
ACT would attract 11.9% and get 18 seats: a combined 54 seats, 7 fewer than a Labour-Green coalition.
The seat results assume an electorate seat is won by Te Pāti Māori, giving it 5 seats for its 3.3% share of the vote.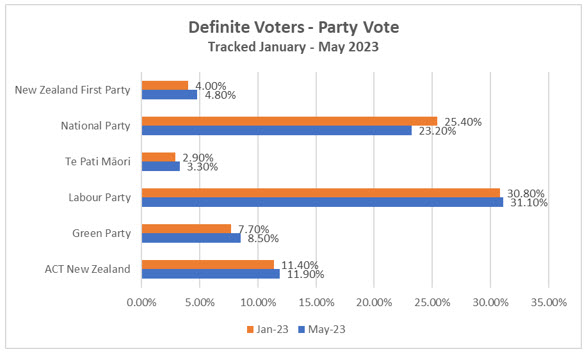 National's share of seats is down 3 from 39 in January.
Labour's share is up 1 from 47.
ACT and Green vote shares are steady.
The results are for respondents who are both registered to vote and 100% likely to vote.
10% of those surveyed remain undecided.
The survey closed a day before the Government presented its 2023 Budget.
New Zealand First, at 4.8%, is close to cross to crossing the 5% threshold to enter Parliament without the need to win an electorate seat.
If it were to achieve 5%, this would give it around 7 seats. A NZF, ACT, National coalition would then have 58 seats, still short of the 61 needed for a majority in a 120 seat Parliament.
If NZF were to get 5%, Labour and Green would have a combined 57 seats and would need Te Pāti Māori, with 5 seats, for a 62 seat coalition.
Horizon says the survey indicates most parties holding their ground, though National slipped 2.3% between the January and May surveys.
Labour versus National by age, gender, household type, income and region
Labour has more support across all age groups than National, except among 35-44 year-olds.
Among 18-24 year-olds Labour has 28% support, National 12%. Among 34-44 year-olds National has 25% support, Labour 19%, trailing by 6%..
Labour has 25% of men and National 24%.
However, among women Labour has 30% support, National 19% an 11% lead for Labour.
Labour (26%) and National (25%) are even among those who are employed and Labour has a 17% lead over National among those who are not employed.
Among Māori, Labour has 34% support, Te Pāti Māori 34% and National 6%.
Regions:
By region, Labour is 5% ahead of National in Auckland, 9% in Northland, 8% in Manawatu- Whanganui, 8% in Wellington, 27% in Nelson/Marlborough and 16% in Canterbury.
National is 11% ahead of Labour in the Bay of Plenty and 7% ahead of Labour in Southland.
In cyclone-affected Gisborne-Hawes Bay Labour has 28% support, National 26%.
Horizon Research says the results indicate Labour is having an issue with 35-44 year-olds, but holding more support than National across all other age groups, including the elderly. National is having issues with attracting support from women and in some of the regions.
Discussion on YouTube
This YouTube post, BHN interviews Horizon's Principal, Graeme Colman, on the poll results and other research findings.
Methodology
The onlne survey has 1,563 respondents. Voting questions were part of an omnibus (the survey included questions on other issues). Results are weighted on, age, personal income, party voted for in 2020, employment status, region and ethnicity. At a 95% confidence level the maximum margin of error on the results overall is +/- 2.5%.
Horizon asks respondents if they are registered to vote, how likely they are to vote from 0 to 100%, and then reports results by those who are registered at 100% likely to vote.
Respondents are grouped by region, not electorate, to provide more reliable sample sizes though results are indicative only where 50 or fewer have responded in a region.
Horizon has no political party client for the poll and conducted the survey as part of its public interest research programme.
Contact:
Graeme Colman, Principal, Horizon Research, email gcolman@horizonresearch.co.nz, telephone +64 021 848 576.