The ocean is important to us, we're concerned about ocean health and losing marine life, and most of us want greater ocean protection.
These are clear messages coming from fresh, independent research representing the voice of all adult New Zealanders on how we value and perceive the ocean.
The insights are within the Live Ocean Barometer '23 report which summarises the findings of a survey conducted by Horizon Research this year.
95% of New Zealanders say the ocean is important to them, with over half (51%) saying it is part of their identity as a New Zealander.
70% of Kiwis are concerned about the health of New Zealand's ocean. Even more (77%) are concerned about loss of biodiversity (the range of life in the ocean).
New Zealanders showed an excellent understanding of the role the ocean plays in addressing climate change… 77% say the ocean should be protected and managed for climate response.
New Zealanders support greater protection… 77% say marine protection should be expanded. A majority of recreational fishers are on board too with 67% of them saying marine protection should be expanded in New Zealand.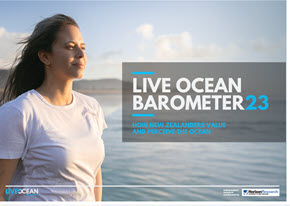 Live Ocean Foundation Chief Executive, Sally Paterson says this is the most comprehensive survey of New Zealanders' values and perceptions towards the health of the ocean in many years.
"New Zealanders' attitudes towards the natural environment are well surveyed, yet our views on the ocean, which accounts for a massive 93% of our footprint on the planet, were much less understood. Until now," says Paterson.
"At Live Ocean we hear every day from New Zealanders about their deep concern for the health of the ocean, love for it and frustration at lack of action. The results of this independent, nationally representative survey demonstrate this clearly."
Survey respondents were also asked to say in their own words what they think and hope the ocean will be like for future generations. Many gave compelling and articulate answers and some are included in the Live Ocean Barometer '23 report.
Their key concerns if we continue on our current path are ocean pollution and that sea life will be affected. Hopes, should we act now as a nation to effectively protect and manage New Zealand's ocean space, are for abundant marine life and that the ocean be a continued source of food.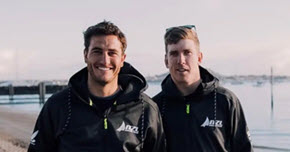 Live Ocean co-founder Blair Tuke (pictured left with Peter Burling) says, "Like many Kiwis, my personal connection to the ocean runs deep, even before I started sailing I was always in or on the water."
"The ocean is changing and fast and while there is an increasing awareness that we need to be so much better at looking after it, we can see from this survey that many share the concern we're not moving fast enough."
The survey also signalled a clear message from New Zealanders about who they think should take the lead with 84% of survey respondents saying the government should be leading action to protect and manage our ocean.

In New Zealand, we currently protect less than 1% of the ocean space we have guardianship of, 90% of our seabirds are threatened or at risk of extinction and multiple stressors of pollution, over-fishing and sedimentation have seen profound effects on the marine environment.
Peter Burling, co-founder of Live Ocean says, "Decision-makers can't be in any doubt about how important the ocean is to New Zealanders, and views on ocean protection – they now have evidence and a mandate to act now for a healthy ocean and a healthy future."


Links:
Quotes from respondents:
Q. In your own words tell us what you love about the ocean?
"The ocean is a foundation of the environment that we not only rely on for our enjoyment and economy, but is fundamental to our existence as a species."
Male, 25-34 years, NZ European/Pākehā
"To me the ocean is the source of life on this planet, the creatures in it are all amazing, and unique - irreplaceable." - Female, 75 years or over, NZ European/Pākehā
"It protects and nourishes us, spiritually and physically. It is exciting and refreshing. It is a part of who we are." - Male, 55-64 years, NZ European/Pākehā, Māori
"Ocean is important because I live in a country with such a large shoreline. We are privileged in this way so whatever we take from the ocean we must give back and take care of it." - Male, 25-34 years, Asian
Q. What do you hope New Zealand's ocean will be like for the next generation if we act to effectively protect and manage it?
"The hope is that the ocean will be healthy, productive and resilient for future generations." – Male, 35-44 years, Asian
"Restored to full health. A food source and big part of our lives and identity." – Female, 45-54 years, NZ European/Pākehā, Māori
"Better than it was when I was a boy." Male, 65-74 years, NZ European/Pākehā
Q. What do you think New Zealand's ocean will be like for the next generation if the country continues on its current path?
"I think my son will grow up seeing coastal homes washed away, and think it is normal. My son will hear about creatures such as Maui dolphins going extinct and wonder why we did not do more." – Female, 25-34 years, NZ European/ Pākehā
"Our ocean will heat from climate change killing species, and overfishing will do huge damage to others." – Male, 25-34 years
"It won't be in a good state. The marine life will all begin to die. It's not looking hopeful at the moment." – Female, 55-64 years, Māori.
For further information please contact
Media enquiries:
Jodie Bakewell-White jodie@liveocean.com 021 709 065
Horizon Research:
Graeme Colman, Principal, Email gcolman@horizonresearch.co.nz; telephone +64 21 848 576.