A new study shows the extent to which New Zealanders' party voting choices are divided on co-governance, Treaty of Waitangi, and racial harmony.
While accusations of playing the race card have emerged in election debates, the Horizon Research study finds that policies to stop co-governance are having an influence on large numbers of those intending to vote for ACT and National, and among males more than females.
The survey also exposes a large divide between Māori and European/ Pakeha voters on co-governance and honouring the treaty of Waitangi (Tiriti o Waitangi).
These issues are being factored into party-vote choices by more than a million eligible voters.
Horizon finds:
Co-governance
26% saying stopping co-governance policies is one of the most important issues helping them decide their party vote at the October 14 general election.
15% say continuing with co-governance policies is important to deciding their party vote.
Honouring the Treaty of Waitangi
23% say Honouring Treaty of Waitangi commitments is an important influence
Racial harmony
The survey also finds 31% saying racial harmony is important to vote choice.
WHO IS BEING INFLUENCED BY CO-GOVERNANCE ISSUES
The co-governance, treaty and race related issues are not the top ranked among 41 issues from which those surveyed could select. The top five were health (64%), rising food prices (62%), affordable housing (56%), crime (55%) and education (55%).
However, at 26%, stopping co-governance is "most important" in helping decide the votes of around 1,036,000 adults.
Continuing those policies influences 603,000.
Stopping co-governance policies has greater influence on men (31%) than women (22%).
Stopping the policies is influencing 35% of voters in households earning more than $150,000 a year,
compared with 26% overall and 21% in middle income households ($50,000 to $150,000).
Ending co-governance, expressed through ACT's "ending division by race" policies, has huge importance to those intending to vote for it: 62%. Just 2% of intending ACT voters say honouring the treaty is a vote-driver and 3% say continuing with co-governance is.
It will also be an important influence for those intending to vote National (40%) and New Zealand First (45%).
HONOURING THE TREATY
There is a large divide between Māori and other ethnic groups.
46% of Māori say honouring the treaty is an important influence on their party vote choice, compared with
20% of New Zealand European/ Pākehā and
12% of Asians.
Honouring the treaty is important to 36% of Pacific peoples.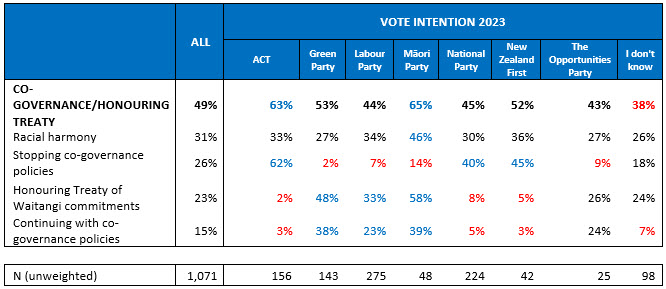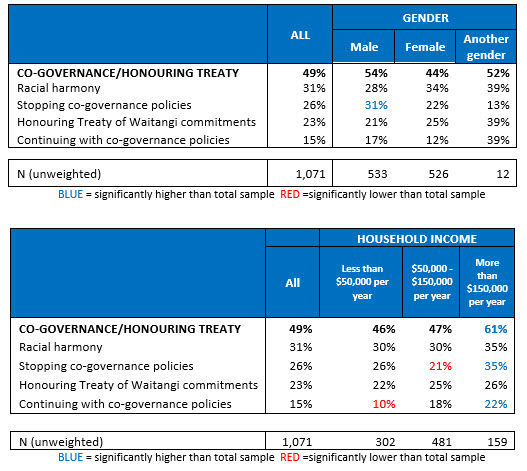 RACIAL HARMONY
At 31% racial harmony has more influence than stopping co-governance (26%) or continuing it (15%).
At 48%, racial harmony is of most influence for those whose ethnicity is "other European" (Europeans other than New Zealand European/ Pākehā).
It is important to 34% of Māori and 30% of NZ European/Pākehā.
Comment on our Facebook page.
METHODOLOGY
Research method
An online survey of adults living in New Zealand aged 18 and older.
Sample sources
Members of two nationwide Horizon Research panels (general population 18+ and Māori population 18+) and a third-party panel (used for source diversity) responded to this survey.
Fieldwork dates
19 to 24 July 2023.
Sample size
1,071 adults overall.
Weighting
The total sample is weighted on age, gender, personal income, ethnicity, region and 2020 party vote to match the adult population.
Maximum predicted margin of error
±3% at the 95% confidence level.
Population estimates in the report
These are based on the Stats NZ June 2022 population estimate of 3,967,760 people aged 18 or more.
Horizon conducted the survey in the public interest, as part of our goal to listen to New Zealanders
CONTACT
For further information on this research please contact
Graeme Colman, Principal, Horizon Research, email gcolman@hoizonresearch.co.nz, telephone +64 21 848 576
Julia Ord, Manager, Horizon Research, email Julia.ord@horizonresearch.co.nz, telephone 027 706 8790.
OVERALL TOP AND LOWEST 10 ISSUES RESULTS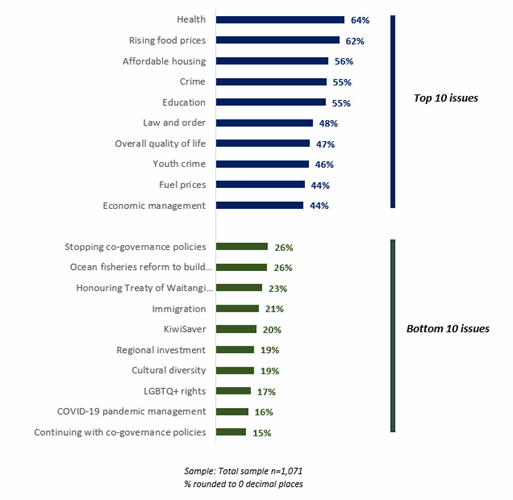 NUMBRER OF ADULTS FOR WHOM EACH ISSUE IS MOST IMPORTANT IN DECIDING PARTY VOTE